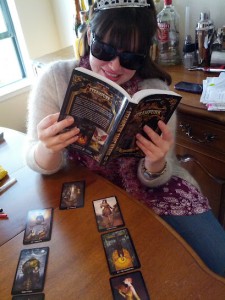 Cerise d'Amour is a romance writer with extraordinary intuition for affairs of the human heart (and non-human shapeshifter hearts as needed). When Cerise isn't busy penning the next Great American Romance Novel, she likes to bring her incredible powers of observation to bear on the problems of other romance writers.
If you're struggling with a plot point, brainstorming titles, or just searching for publishing advice, email Cerise (cerise AT sohighconcept DOT com) or tweet her @sohighconcept – she may answer your question in a future video!
* * *
Cerise d'Amour is a parody. Under no circumstances should you trust her advice, unless you like your advice soaked in whisky. To find the woman behind the tiara, go to www.sararamsey.com.
1 Comment